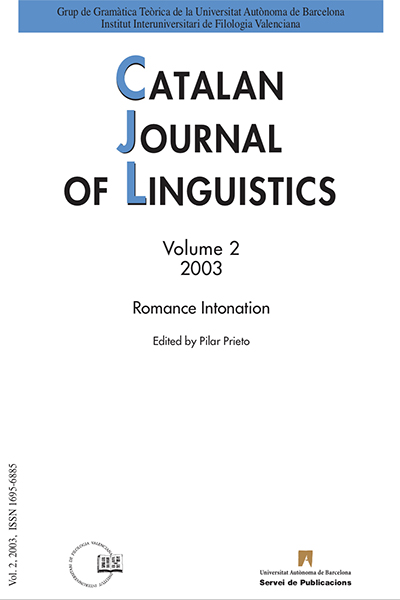 Autors:
Pilar Prieto (ed.)
Títol:
Romance intonation
Editorial:
Universitat Autònoma de Barcelona, Servei de Publicacions
Col·lecció:
Catalan Journal of Linguistics #

02
Data de publicació:
2003
Pàgines:
283
Més informació
Text complet
The papers collected in this volume are concerned with a wide range of topics which reflect the work that is being conducted at present in this field. They have been written by specialists who devote their current work to describing the intonational systems of Romance languages and to discussing some of the theoretical questions posed in intonational phonology. I trust the volume will contribute to broaden the empirical and theoretical studies of prosody within the Romance area and will spark further interest and inquiry into the area of intonational phonology.
Títols de la col·lecció / Also in this series: