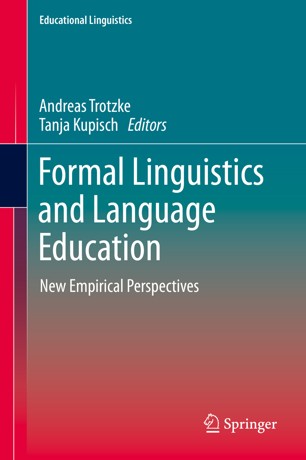 Autors:
Andreas Trotzke & Tanja Kupisch (eds.)
Títol:
Formal Linguistics and Language Education, New Empirical Perspectives
Editorial:
Educational Linguistics vol.43, Springer
Data de publicació:
Juny de 2020
Més informació
This volume focuses on work that has its origin and motivation in formal linguistics and theory-driven research on the acquisition of grammar, and on this basis tries to establish links to language pedagogy, including students' and teachers' beliefs about what 'grammar' actually is. The contributions to this volume cover a wide range of empirical linguistic domains and concern aspects of morphosyntax, including word order, inflectional morphology, article systems, pronouns, compounding patterns, as well as orthography and students' general beliefs about grammar.