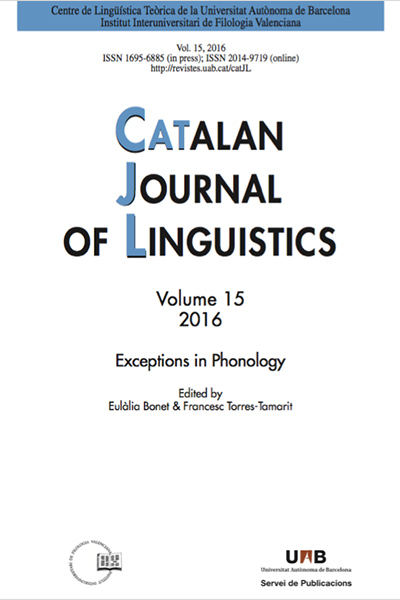 Autors:
Eulàlia Bonet & Francesc Torres-Tamarit (eds.)
Títol:
Exceptions in Phonology
Editorial:
Universitat Autònoma de Barcelona, Servei de Publicacions
Col·lecció:
Catalan Journal of Linguistics #

15
Data de publicació:
2016
Pàgines:
171
Text complet
The origin of this volume is the Workshop on Exceptionality in Phonology, which was held at the Universitat Autònoma de Barcelona the 27 of January 2015 as part of the 12th Old World Conference in Phonology, and which featured Kie Zuraw (UCLA) as keynote speaker. From the seven talks that were presented at the Workshop, six appear in this volume, and one more paper that was not presented at the Workshop has also been included. The papers presented in this monographic volume are not meant to cover the totality of theoretical approaches and research activities on the topic at hand, which is certainly a very broad topic, but to present up-to-date work by leading phonologists on a topic that is a long-debated problem for phonological theory.
Títols de la col·lecció / Also in this series: