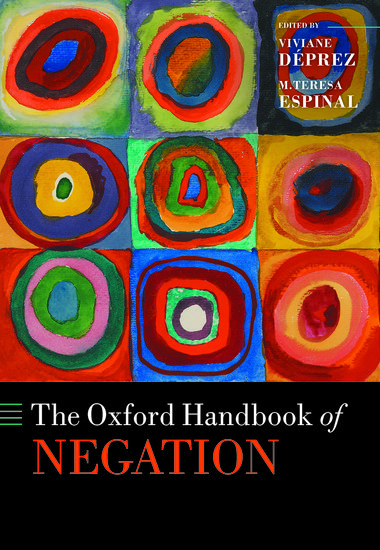 Autors:
Déprez, V. & M.T. Espinal (eds.)
Títol:
The Oxford Handbook of Negation
Editorial:
Oxford University Press
Data de publicació:
25 de març del 2020
Pàgines:
896
ISBN13:
9780198830528
Més informació
In this volume, international experts in negation provide a comprehensive overview of cross-linguistic and philosophical research in the field, as well as accounts of more recent results from experimental linguistics, psycholinguistics, and neuroscience. The volume adopts an interdisciplinary approach to a range of fundamental questions ranging from why negation displays so many distinct linguistic forms to how prosody and gesture participate in the interpretation of negative utterances. Following an introduction from the editors, the chapters are arranged in eight parts that explore, respectively, the fundamentals of negation; issues in syntax; the syntax-semantics interface; semantics and pragmatics; negative dependencies; synchronic and diachronic variation; the emergence and acquisition of negation; and experimental investigations of negation. The volume will be an essential reference for students and researchers across a wide range of disciplines, and will facilitate further interdisciplinary work in the field.