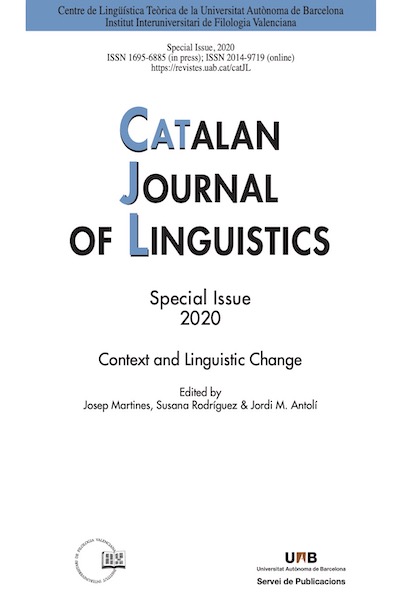 Autors:
Martines, Josep, Susana Rodríguez & Jordi M. Antolí (eds.)
Títol:
Context and Linguistic Change
Editorial:
Bellaterra: Servei de Publicacions de la UAB
Col·lecció:
Catalan Journal of Linguistics #

2020 Special
Data de publicació:
2020
Pàgines:
204
Més informació
Text complet
The papers integrating this special issue aim at shedding light on the many research possibilities suggested by usage-based linguistics. All the contributions have different goals, focus on different languages (Catalan, English, Spanish or Portuguese), use several chronological frameworks (there are diachronic and syn

chronic analysis) and approach a variety of linguistic elements. However, despite this seeming heterogeneity, all the papers share a similar methodology and a conception of linguistic communication – and, specifically, of linguistic change – strongly based on usage.
Títols de la col·lecció / Also in this series: