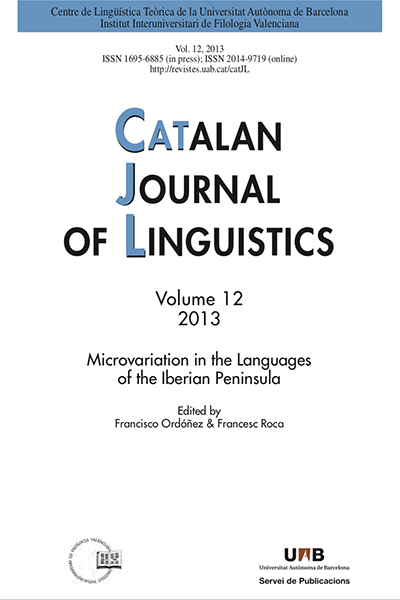 Autors:
Francisco Ordóñez & Francesc Roca (eds.)
Títol:
Microvariation in the Languages of the Iberian Peninsula
Editorial:
Universitat Autònoma de Barcelona, Servei de Publicacions
Col·lecció:
Catalan Journal of Linguistics #

12
Data de publicació:
2013
Pàgines:
305
Text complet
This issue of the Catalan Journal of Linguistics  was conceived with the idea to promote comparative studies of the languages spoken in the Iberian Peninsula. The importance of comparison in linguistics dates back to neogrammarians in the xix century due to their interest of discovering the common roots of most of the lan- guages spoken in Europe. In order to get to that objective, comparison of phonologi- cal patterns were crucial to retrieve the common Indo-European origins.
In the generative framework variation and comparison was not highlighted until the advent of Lectures on Government and Binding  (Chomsky 1981), which marks the beginning of the Principles and Parameter theory. A parameter, in its original conception, is a principle with a dimension of variability with respect to a specific syntactic property (Head-initial or Head-final, Node for Subjaceny: S or S'). This variation can be expressed with the values + or –, and each value is associated to a series of syntactic correlations.
Títols de la col·lecció / Also in this series: