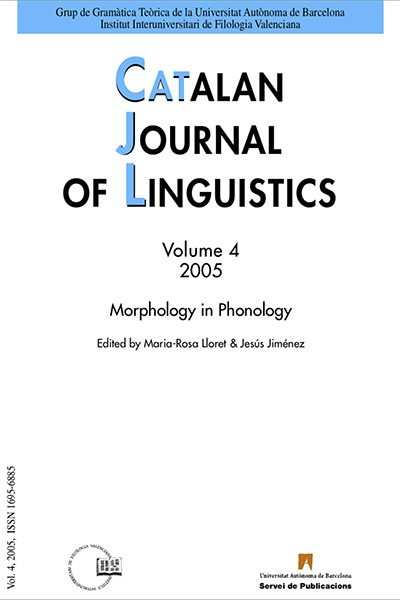 Autors:
Maria-Rosa Lloret & Jesús Jiménez (eds.)
Títol:
Morphology in phonology
Editorial:
Universitat Autònoma de Barcelona, Servei de Publicacions
Col·lecció:
Catalan Journal of Linguistics #

04
Data de publicació:
2005
Pàgines:
252
Text complet
This fourth volume of Catalan Journal of Linguistics  is devoted to a topic discussed at length in the literature but which nevertheless remains a challenge for any view of phonology: the morphology-phonology interaction. The papers collected address two related issues, the role of morphological information in phonology and the role of phonological information in morphology.
The contributions to this volume raise many interesting questions concerning morphophonemics from different points of view. In the articles some answers to these questions are suggested. One is the search for a more restrictive and coherent grammar to account for alternations. Another one is the existence of certain symmetries between the morphological and the prosodic/phonological level. Yet another one is the role of paradigms and subparadigms (patterns and subpatterns) in phonology and morphology. Unavoidably many other questions remain unresolved and have to be left for future research: What are the consequences of Freedom of Analysis and of Richness of the Base in OT? How can we integrate and limit paradigms and subparadigms in a particular linguistic analysis? Hopefully, this volume sets out further paths to explore.
Títols de la col·lecció / Also in this series: