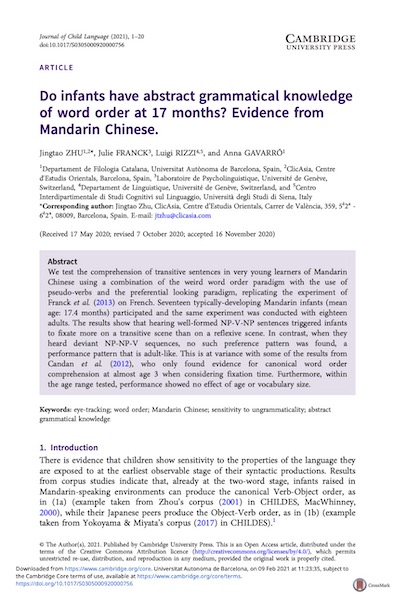 Autors:
Jingtao Zhu, Julie Franck, Luigi Rizzi & Anna Gavarró
Títol:
Do infants have abstract grammatical knowledge of word order at 17 months? Evidence from Mandarin Chinese
Editorial:
Journal of Child Language, Cambridge University Press
Data de publicació:
Febrer del 2021
Més informació
Text complet
We test the comprehension of transitive sentences in very young learners of Mandarin Chinese using a combination of the weird word order paradigm with the use of pseudo-verbs and the preferential looking paradigm, replicating the experiment of Franck et al. (2013) on French. Seventeen typically-developing Mandarin infants (mean age: 17.4 months) participated and the same experiment was conducted with eighteen adults. The results show that hearing well-formed NP-V-NP sentences triggered infants to fixate more on a transitive scene than on a reflexive scene. In contrast, when they heard deviant NP-NP-V sequences, no such preference pattern was found, a performance pattern that is adult-like. This is at variance with some of the results from Candan et al. (2012), who only found evidence for canonical word order comprehension at almost age 3 when considering fixation time. Furthermore, within the age range tested, performance showed no effect of age or vocabulary size.