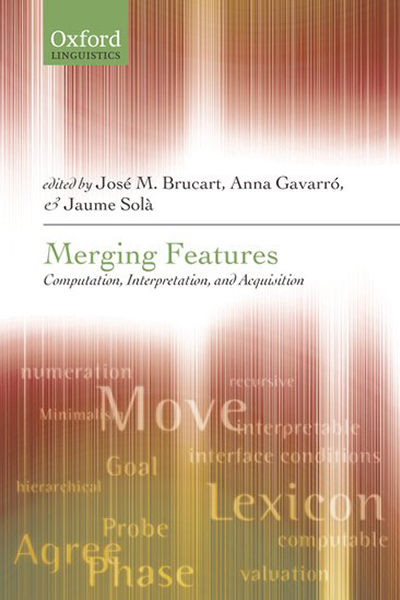 Autors:
José M. Brucart, Anna Gavarró, and Jaume Solà
Títol:
Merging Features
Editorial:
Oxford University Press
Data de publicació:
2009
Pàgines:
390
ISBN13:
9780199553266
Més informació
This book presents new work on how Merge and formal features, two basic factors in the Minimalist Program, should determine the syntactic computation of natural language. Merge combines simpler objects into more complex ones. Formal features establish dependencies within objects. In this book leading scholars examine the intricate ways in which these two factors interact to generate well-formed derivations in natural language. It is divided into two parts concerned with formal features and interpretable features - a subset of formal features.
The authors combine grammatical theory with the analysis of data drawn from a wide range of languages, both in the adult grammar and in first language acquisition. The mechanisms at work in linguistic computation are considered in relation to a variety of linguistic phenomena, including A-binding, A'-dependencies and reconstruction, agreement, word order, adjuncts, pronouns and complementizers.