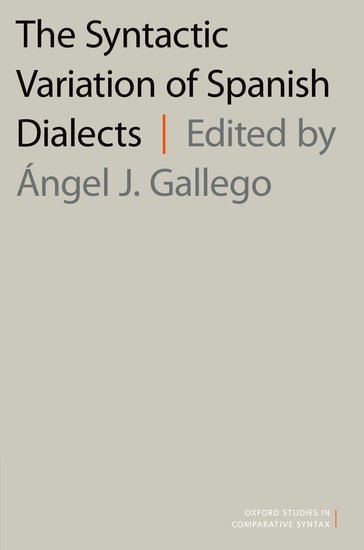 Autors:
Ángel Gallego (ed.)
Títol:
The Syntactic Variation of Spanish Dialects
Editorial:
Oxford University Press
Data de publicació:
25 de setembre de 2019
ISBN13:
9780190634797
Més informació
This book offers a comprehensive overview of the syntactic variation of the dialects of Spanish. More precisely, it covers Spanish theoretical syntax that takes as its data source non-standard grammatical phenomena. 

Approaching the syntactic variation of Spanish dialects opens a door not only to the intricacies of the language, but also to a set of challenges of linguistic theory itself, including language variation, language contact, bilingualism, and diglossia. The volume is divided into two main sections, the first focusing on Iberian Spanish and the second on Latin American Spanish. Chapters cover a wide range of syntactic constructions and phenomena, such as clitics, agreement, subordination, differential object marking, expletives, predication, doubling, word order, and subjects. 

This volume constitutes a milestone in the study of syntactic variation, setting the stage for future work not only in vernacular Spanish, but all languages.