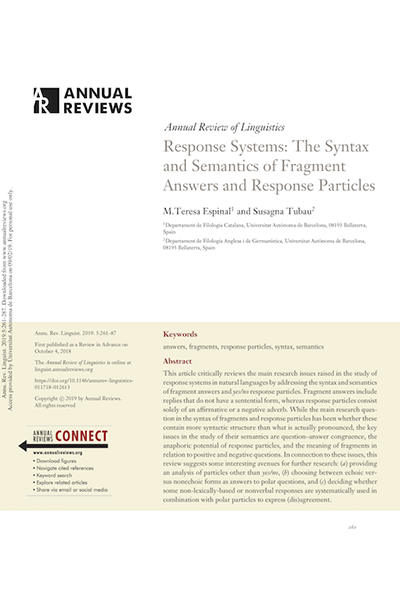 Autors:
M.Teresa Espinal i Susagna Tubau
Títol:
Response Systems: The Syntax and Semantics of Fragment Answers and Response Particles
Editorial:
Annual Review of Linguistics
Data de publicació:
20 de gener de 2019
Pàgines:
28
Més informació
Text complet
This article critically reviews the main research issues raised in the study of response systems in natural languages by addressing the syntax and semantics of fragment answers and yes/no response particles. Fragment answers include replies that do not have a sentential form, whereas response particles consist solely of an affirmative or a negative adverb. While the main research question in the syntax of fragments and response particles has been whether these contain more syntactic structure than what is actually pronounced, the key issues in the study of their semantics are question–answer congruence, the anaphoric potential of response particles, and the meaning of fragments in relation to positive and negative questions. In connection to these issues, this review suggests some interesting avenues for further research: (a) providing an analysis of particles other than yes/no, (b) choosing between echoic versus nonechoic forms as answers to polar questions, and (c) deciding whether some non-lexically-based or nonverbal responses are systematically used in combination with polar particles to express (dis)agreement.