Professors – investigadors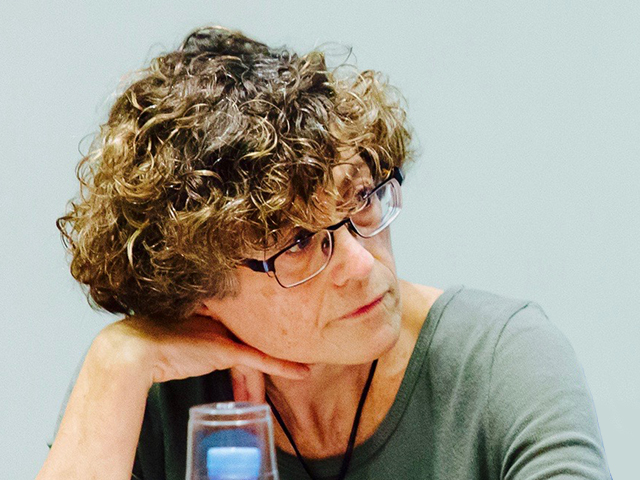 Adreça
Departament de Filologia Catalana
Despatx B11/248
Facultat de Lletres
Edifici B
Universitat Autònoma de Barcelona
08193 Bellaterra (Barcelona)
Publicacions destacades / Featured Publications
Línies d'investigació / Research interests
Fonologia | Morfologia | Interfície fonologia-morfologia | català i altres llengües romàniques
Publicacions recents / Recent publications
2022
Bonet, E., & Torres-Tamarit, F. (2022). Typologically Exceptional Phenomena in Romance Phonology. In A. Ledgeway & M. Maiden (Eds.), The Cambridge Handbook of Romance Linguistics (Cambridge Handbooks in Language and Linguistics, pp. 292-318). Cambridge: Cambridge University Press. https://doi.org/10.1017/9781108580410.011
2020
Spanish phonology at the syntax interface. A Sonia Colina and Fernando Martínez-Gil (eds), Handbook of Spanish Phonology. Routledge
2019
(amb Francesc Torres-Tamarit) Verb-clitic structures in Eivissan Catalan: recursive prosodic words and allomorphy, Catalan Journal of Linguistics 18.
(amb Lisa Lai-Shen Cheng, Laura J. Downing i Joan Mascaró) (In)direct Reference in the Phonology-Syntax Interface under Phase Theory: A Response to Modular PIC. Linguistic Inquiry, 50.4: 751–777.
Clitics and Clitic Clusters in Morphology. In Oxford Research Encyclopedia of Linguistics. Oxford University Press. doi:10.1093/acrefore/9780199384655.013.519.
2018
Missing inflectional features and missing exponents in DP-internal agreement asymmetries. Glossa: a journal of general linguistics, 3(1), 79, 1-19. DOI: http://doi.org/10.5334/gjgl.579
(amb Maria-Rosa Lloret)  Fricative-affricate alternations in Catalan. Probus 30.2: 215-249. https://doi.org/10.1515/probus-2018-0002
2017
Reflexiones sobre la inserción léxica. In Ángel Gallego, Yolanda Rodríguez & Javier Fernández-Sénchez (eds.), Relaciones sintácticas. Homenaje a José M. Brucart y M. Lluïsa Hernanz, 109-120. Bellaterra: Departament de Filologia Espanyola.
2016
Sincretismo: un término para un concepto, no dos. Verba (Anuario galego de filoloxia) 43: 405-414.
Morfemas y alomorfos. A Javier Gutiérrez-Rexach (dir.) Enciclopedia de Lingüística Hispánica, pp. 700-709. London, New York: Routledge Publishing.
(amb Francesc Torres-Tamarit) (eds) Catalan Journal of Linguistics 15: Exceptions in Phonology.
(amb Maria-Rosa Lloret) Romance phonology and morphology in Optimality Theory. A Susann Fischer & Christoph Gabriel (eds), Manual of Grammatical Interfaces in Romance, 113-147. De Gruyter.
2015
(amb Maria-Rosa Lloret i Joan Mascaró), "The prenominal allomorphy syndrome", a Eulàlia Bonet, Maria-Rosa Lloret i Joan Mascaró (eds.) Understanding Allomorphy: perspectives from Optimality Theory, Advances in Optimality Theory, Equinox, Londres, pp. 5-44.
2013
Agreement in two steps (at least), a Alec Marantz & Ora Matushansky (eds.), Distributed Morphology Today; Morphemesfor Morris Halle, Cambridge, MA: MIT Press. 167-184.
A challenge for Harmonic Serialism with Optimal Interleaving. Phonology 30/3: 399-421.
2012
(amb Joan Mascaró), "Asimetrías de concordancia en el SD: el rasgo de masa en asturiano", a Antonio Fábregas, Elena Felíu, Josefa Martín y José Pazo (eds.) : Los límites de la morfología. Estudios ofrecidos a Soledad Varela Ortega, Servicio de Publicaciones de la Universidad Autónoma de Madrid, pp. 91-104.
(amb Daniel Harbour), "Contextual Allomorphy", a Jochen Trommer (ed.) The Morphology and Phonology of Exponence. Oxford University Press (Studies in Theoretical Linguistics). pp. 195-235.
2011
(amb Francesc Torres-Tamarit), "Les formes d'imperatiu seguides de clític: un cas de conservadorisme lèxic", a Maria Rosa Lloret i Clàudia Pons, Noves aproximacions a la fonologia i la morfologia del català, Alacant: Institut Interuniversitari de Filologia Valenciana (Col·lecció Symposia Philologica), 2011, pp. 37-61.
Ressenya de: Embick, David (2010). Localism versus Globalism in Morphology and Phonology. (Linguistic Inquiry Monograph 60.) Cambridge, MA: The MIT Press, a la revista Phonology 28.3:526-529, 2011.
2010
(amb Francesc Torres-Tamarit) "Allomorphy in pre-clitic imperatives in Formenteran Catalan. An output-based analysis". A Sonia Colina, Antxon Olarrea, Ana María Carvalho (eds.), Romance Linguistics 2009. Selected papers from the 39th Linguistic Symposium on Romance Languages (LSRL), Tucson, Arizona, March 2009, John Benjamins, 2010, pp. 337-351.
2009
Ressenya de Doing Optimality Theory. Applying Theory to Data, de John McCarthy (Blackwell, 2008), a la revista Language 85: 942-944, 2009.
2008
"The Person-Case constraint and repair strategies"
In: Roberta d'Alessandro, Susann Fischer, Gunnar Hrafn Hrafnbjargarson (eds.), Person Restrictions, Mouton de Gruyter (Interface Explorations 15), pp. 103-128.
"Item-and-Arrangement or Item-and-Process?"
Cuadernos de Lingüística XV, pp. 1-12.
2007
"Allomorph selection and lexical preferences: two case studies"
(with Maria-Rosa Lloret i Joan Mascaró)
Lingua 117. 6, pp. 903-927.
2006
"Gender allomorphy and epenthesis in Spanish"
In: Fernando Martínez-Gil  & Sonia Colina (eds.), Optimality-Theoretic Studies in Spanish Phonology, John Benjamins (Linguistik Aktuell 99), pp. 312-338.
"U u o e y o e" (con Joan Mascaró)
Cuadernos de Lingüística  XIII, pp. 1-8.
2005
"More on Alignment as an alternative to domains: the syllabification of Catalan clitics" (with Maria-Rosa Lloret)
Probus 17.1, pp. 37-78.
"Against serial evaluation in Optimality Theory" (with Maria-Rosa Lloret)
Lingua 115/9, pp. 1303-1323.